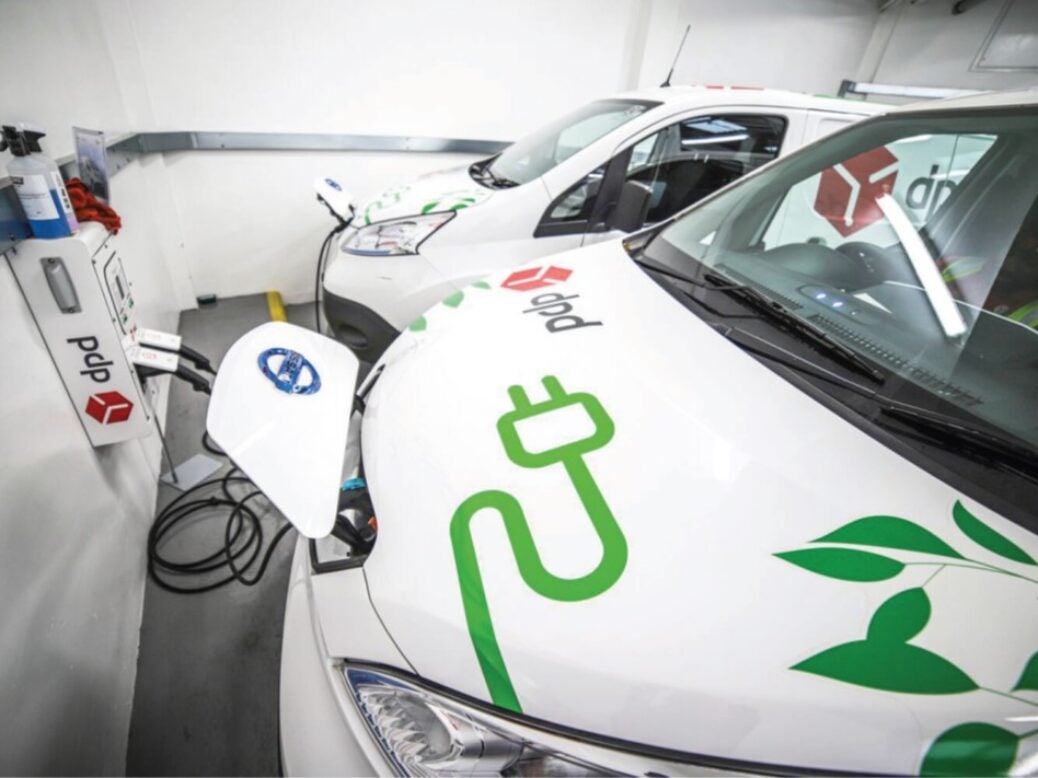 Contemporary society would be impossible without the mail – a fact vividly evidenced by the size of modern postal fleets. Poste Italiane has tens of thousands of vehicles, a scale shadowed by public and private enterprises across Europe. Given how many polluting combustion engines these figures imply, moreover, it should come as no surprise that logistics firms are rushing to electrify their vehicles. But given the continent's vast geographical and cultural variations, how are staff securing vehicles that fit a land of huge cities and narrow country lanes – and how much support are they getting from their colleagues in government? Andrea Valentino talks to a range of experts to learn more.
From the name, Law No. 604 sounds about as tedious as they come – but contemporary Italy would be inconceivable without it. Passed in 1862, just a year after the House of Savoy finally reunified the peninsula after a millennium and a half of fracture, the new legislation established the country's first centralised postal service.
Mandating the creation of national postage stamps, together with a single postal fee from Venice to Naples, the organisation was key in bringing some semblance of harmony to a land where city states and foreigners had reigned for so long. Nor would the importance of Poste Italiane to the Italian sense of nationhood end there. During World War One, for instance, it shipped the daily postcards of millions of troops, providing a crucial link between countless home villages and the conflict's frontlines.
And though mobiles and the internet may have softened its power of late, Poste Italiane is still fundamental to the modern Italian state. Partly privatised in 2015, it offers insurance and banking services, and looks after the correspondence of Italian military personnel stationed abroad. More than that, Poste Italiane delivers to civilian punters – a lot. According to one 2018 estimate, the group handles about three billion letters and 127 million parcels each and every year, figures that help explain how it enjoyed revenue of €11.2bn in 2021 alone.
And even as it continues in these core competencies, Poste Italiane is working to build the Italian future – and the future of billions beyond its borders too. "Today," explains Riccardo Vitelli, his employer is "strongly committed to reducing the environmental impact associated with its activities with the aim of achieving carbon neutrality by 2030." Listen to Poste Italiane's fleet management chief, however, and it becomes clear that going from theory to practice is far from straightforward, instead requiring careful investment in new vehicles, as well as close contact with industry and government. The same, indeed, could be said of other European mobility firms as well, with executives from Paris to Bonn treading similar paths to Vitelli in Rome. Taken together, and these varied efforts could soon transform the continent's logistics network – with the right support anyway.
Brussels sprouting
You know something matters on the continent when the bloated bureaucracy of the European Union climbs out of bed and takes notice. That's obvious enough, at any rate, when it comes to environmentalism. From waste management to marine conservation, Brussels is avowedly green – something that's equally true in terms of transportation. Under the terms of Regulation (EC) 443/2009, for instance, new passenger cars and vans must emit at least 31% less carbon by 2030. That's shadowed by another law, passed in March, which obliges new vehicles to be totally carbon neutral by 2035. Beyond these pan-European measures, individual member states are passing similar laws. In France, towns of more than 150,000 people will now be able to create low emission zones, limiting older and more polluting vehicles. Spain's parliament has passed related legislation, while the Dutch city of Amsterdam aims to ban petrol-powered cars altogether.
These legal obligations, if nothing else, help explain why Poste Italiane is reacting in kind, with Vitelli and his colleagues developing a fleet of 27,800 low-emission vehicles by next year. Nor is Poste Italiane the only major European delivery firm to be galvanised by regulation.
"We will be advocating at the level of European Commission to contribute shaping the right directive to support the decarbonisation of business – and maybe accelerate it," says Dominique Mamcarz, the sustainability director at Geopost (formerly known as DPDgroup), adding that, by 2040, the French logistics company intends that every one of its first-and-last-mile vehicles will be 100% low emission. There are parallel signs across the Rhine as well, with Calvin Miles of Deutsche Post DHL Group explaining that the local popularity of compressed natural gas (CNG) in Germany requires a different approach to fuelling vehicles than in LNG-rich Britain.
Beyond abiding by this plethora of rules and customs, there are reputational considerations here too. Spend long on the Poste Italiane website – or that of Geopost and DHL – and you'll soon find reams of information on everything from low-emission scooters to bike-peddling postmen. Examine customer statistics, moreover, and this proliferation makes sense. According to a recent survey by Bain, 75% of Europeans are willing to pay more for sustainable products, a particular concern for people like Vitelli when transport and logistics contribute almost a quarter of the world's carbon footprint. Beyond end consumers, meanwhile, investors are putting pressure on transport firms to adapt. As work by PwC has found, a full 82% of clients expect investment portfolios to boast an ESG lens. Combine all this with the possibility of making returns on green investments – and of course, supporting the planet – and it makes sense that Mamcarz should describe his firm's decarbonisation efforts as "massive" to its future.
The cycles of life
If you're lucky enough to visit the northern Italian town of Como – all posh boutiques and lakeside views – you may notice a yellow three-wheeler making its rounds. Best described as a cross between a moped and a child's tricycle, these vehicles are far from sexy. Yet, beyond their aesthetic, they speak eloquently to how Poste Italiane is fighting for a carbon-free tomorrow. Fully-electric, Vitelli says there are over 2,200 of such vehicles (and their four-wheeled comrades) currently buzzing up and down the peninsula, with plans for many more to come. Other companies, for their part, have gone in this direction too. In July 2021, Oxford became Geopost's first 'green' city, with the company orchestrating a fleet of 40 electric vehicles at its Bicester depot. Around the same time, Deutsche Post DHL Group executives approved the purchase of 8,000 e-bikes, together with 14,000 e-trikes. As Miles explains, that's echoed by broader efforts to electrify 60% of the company's "lastmile delivery" by 2030.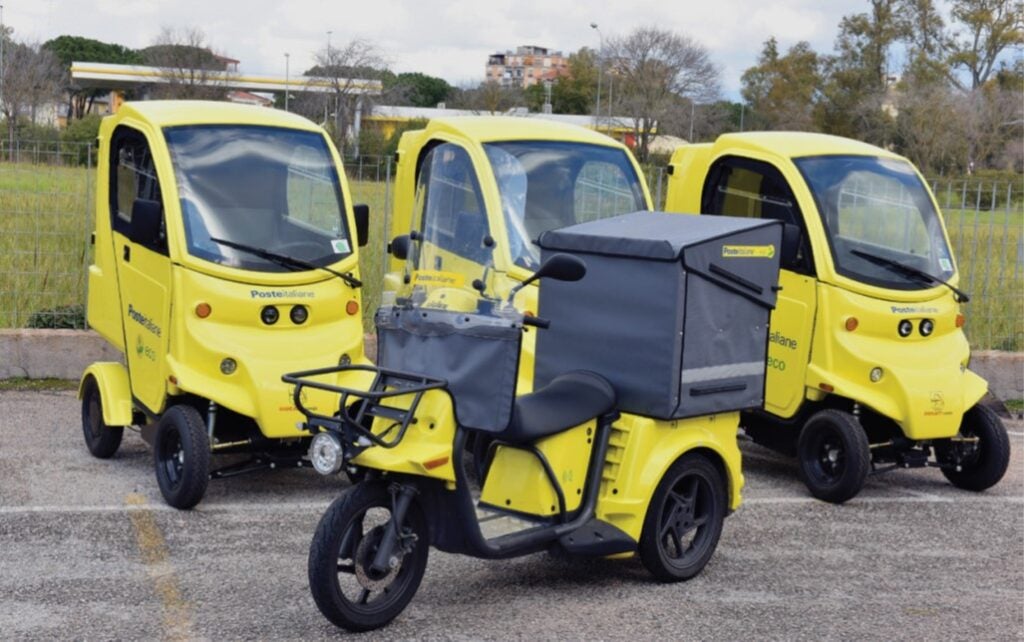 It goes without saying that these varied efforts can support a warming planet. But that hardly means companies can invest in electric vans or bikes without remembering their core competencies. To understand this point, consider just how varied the European landscape truly is. Modern cities mingle with baroque towns and medieval hamlets; Alpine peaks give way to river valleys and plains. While three-wheeled deliveries might therefore be perfect for the pedestrianised lanes of Como, they're unlikely to survive the industrial tumult of cities like Berlin – and that's before you consider the middle-mile transfer of letters and parcels along major roads and highways.
With this in mind, logistics firms across the continent are careful to choose sustainable vehicles that fit the local environment. "Electromobility will really be adapted to the local geography," is how Mamcarz of Geopost puts it, noting that in Paris his employer had to secure vehicles with enough storage capacity – but which were also narrow enough to negotiate the city's streets unhindered. This spirit of compromise can be glimpsed in other quarters too, notably when the vehicles involved become bigger. As Miles says, his company has aspirations to decarbonise its fleet of lorries by 30%, with CNG and LNG fuel proving "vastly cleaner than diesel engines." In the same breath, however, Miles emphasises that these machines are tailpipe emitters all the same, adding that a lack of vehicle availability also hampers progress.
Plugging the gaps
This last point is doubtless bolstered by the numbers. As Miles says, a manufacturer like Volvo only makes about 100,000 electric lorries a year. Compare that to Volkswagen, which polishes off some 12 million smaller electric vehicles over the same time frame, and you can quickly see why logistics firms might focus their attention on last-mile deliveries. Not that the situation here is by any means perfect. Everyone I spoke to grumbled to some extent about the absence of official support for electrification, especially in the thorny field of charging infrastructure. In Italy, for example, Vitelli says the government is "struggling" to build the relevant stations, explaining that Poste Italiane has instead taken to installing 4,200 charging points inside distribution centres. And though DPDgroup does receive subsidies from the French state to invest in chargers, Mamcarz warns against a single continentwide solution, explaining that the firm's cobweb of subcontractors requires a subtle understanding of what each partner needs.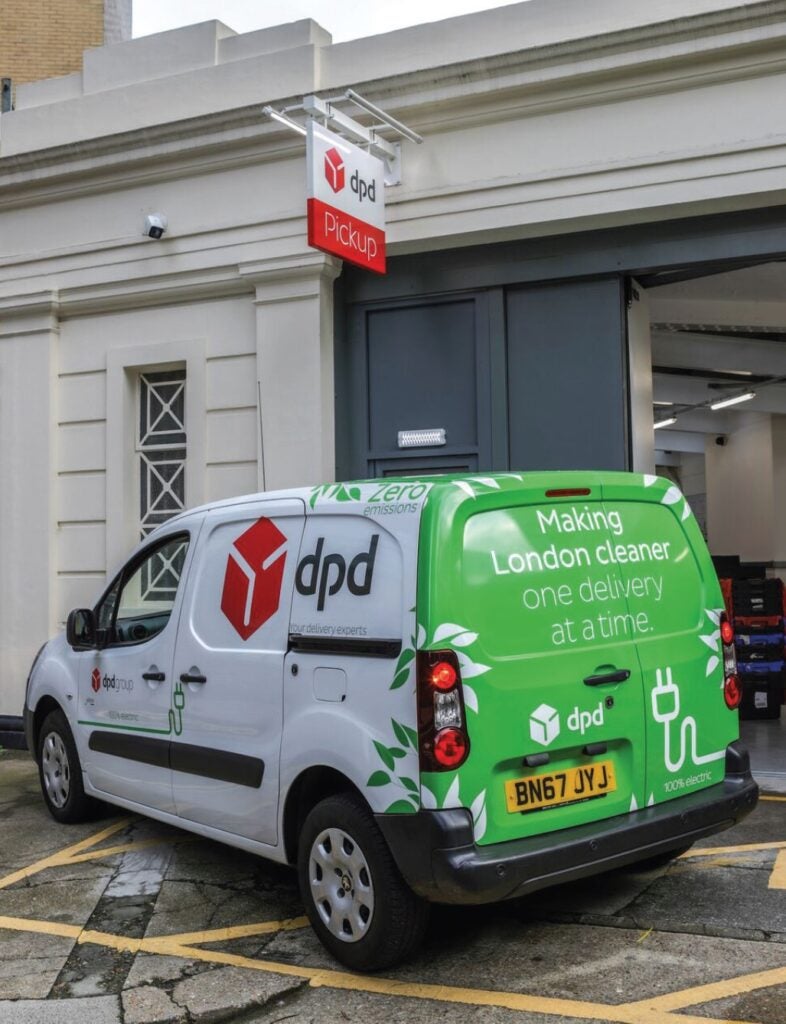 There's clearly a disconnect between the increasingly strict rules around electrification on the one hand – and the dearth of government action on the other. But if they certainly share concerns, the experts seem equally excited for the future. Miles surely speaks for his profession when he says that cutting emissions is now embedded in "our daily working life," stressing that the march to carbon neutrality is one that's been ongoing since he started at Deutsche Post DHL back in 2007. This feeling of optimism is apparent, too, in the specific schemes of logistics companies. Mamcarz and his team are actively promoting a target whereby 90% of Europeans live within ten minutes of a pickup shop or locker, meaning they can walk or cycle to their parcel without starting their cars. In Italy, Vitelli says Poste Italiane will build a public infrastructure of 5,000 electric vehicle chargers, spread across some 2,500 municipalities. The point, he says, is to make Italy's towns and cities "better places to live." Given how vital the organisation has been to the country's story so far, you wouldn't bet against him succeeding.