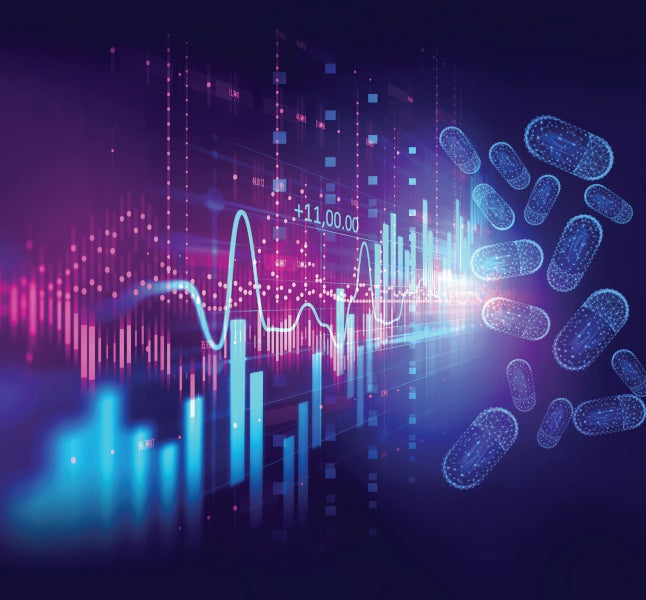 With more than 20 years under his belt at Novo Nordisk, Karsten Munk Knudsen has arguably been the last in the room as his business has evolved over the past two decades. Like many of us, he's seen change at a remarkable scale. But for him that change – the fourth industrial revolution – is also impacting everything he does in his role today.
The Danish giant ranks fifth in the world among leading pharmaceutical companies based on market capitalisation and 17th in terms of revenues, posting in excess of $20bn in 2020. Its global workforce of more than 45,000 operates out of 80 offices, 16 production sites and ten R&D centres across the globe. Today, around 170 countries have access to products developed and manufactured by Novo Nordisk.
Knudsen is based in Denmark, working out of Copenhagen, but that has not always been the case: he spent several years in the US and has occupied positions of varying seniority and job function. Attributing this variety to the company's enthusiasm for people to rotate their roles, he says he's been on a great journey. "I've been able to change jobs every three and a half years or so, which has kept me at the company for more than 20," he says, something he chalks down to Novo's "comprehensive talent management programme".
Years in the making
Another key contributor is Knudsen's commitment to his company. Speaking to him for just a few minutes, it's impossible to ignore his passion for Novo Nordisk, battling to deliver a better quality of life to millions. As Knudsen puts it, his company "drives change to defeat diabetes and other serious chronic diseases".
That focus on diabetes is no accident. With a rich history spanning almost 100 years, Novo has been a leading light in the global battle against the illness, having commercialised the production of insulin in 1923. Among other therapeutic areas, the company today provides around half of the global supply of insulin, treating more than 32 million patients.
Knudsen, for his part, started his time with Novo as a business analyst at the company's NNIT A/S subsidiary in 1999, and has climbed the ranks to CFO. "The role of the CFO, and of the entire finance function, has significantly changed because technology has matured," he says. Reflecting back on his early career, he adds that finance was a function that took data from one system and input it in another – and was largely based on Excel.
Nowadays, however, things have changed dramatically. "The finance function is much smarter and rewarding, in the sense that it's more about using data to create value for the corporation, rather than cranking a process," Knudsen says. This has enabled finance professionals to operate in what he describes as a much more qualified way than they ever have before. Data, and a maturing understanding of how it can be utilised, is key to the value creation across businesses, not just in finance, and will ultimately benefit patients, shareholders and other stakeholders.
Data: the next frontier for CFOs
It's a vision Knudsen has for Novo and pharma more widely, but it's not exclusive to his company. Professional services provider Deloitte says "it's crunch time" for finance departments. It predicts that by the middle of this decade, the profession will have gone through a major transition, one it says is already under way, adding that now is the time to prepare for "the inevitable disruption ahead".
In its 'Finance 2025' report, Deloitte shared its eight predictions for CFOs. Among others, it said the finance function would change, reporting would become real-time, traditional enterprise resource planning would be challenged and data management would become even more important.
Knudsen says he's already feeling the tectonic plates shift. The transactional side of finance is getting less significant, he believes, thanks to data and more optimised decision making.
On a broader level, he continues, Novo Nordisk has firmly put digital transformation at the heart of its future through its digital strategy. In practice, that means using data to provide insights that will have "real impacts" on how business is done. Supporting this are initiatives aimed at attracting some of the brightest new talent in the fields of data management and analytics, integrations, cloud and infrastructure, and global platforms, as the multinational transitions in a way it hopes will fundamentally change the development, production and delivery of its therapeutics.
Running like a river through all this, says Knudsen, is the clever use of data. "If you talk to any of my colleagues in the executive suite, digital is a keeper," he explains. "From using it in research or connected clinical trials, to manufacturing, to digital finance functions, it's truly key. It has a clear efficiency aspect, but also an effectiveness aspect too: that could be reducing waste, for example."
Going digital
With more than 35,000 participants in clinical trials across 50 countries annually, countless external partners and an abundance of research projects taking place in numerous locations, Novo Nordisk is producing vast amounts of data. And, as Deloitte warns, data is only as good as the management of it is – something Knudsen clearly understands. As he puts it: "Being able to utilise data in a much more enriched way, thereby designing future research and clinical trials in a smarter way, will help generate better outcomes for patients and better pharmaceutical products too."
Advances like these will ultimately indirectly benefit the commercial capabilities of an organisation too, in whatever industry. This is why the role of the CFO and their teams is evolving more quickly than it ever has before. Today's CFOs, after all, are far more public than their predecessors, as they're now tasked with driving change enterprise-wide. Apart from expanding the to-do list for CFOs the world over, that's also increasing the number of functions reporting directly to Knudsen and his fellow finance directors. This is reflected by Knudsen himself, especially when it comes to his involvement in emerging areas of his business. While the traditional finance role remains critical – statutory reporting, tax returns and invoicing, for example – its optimisation has other sweeping benefits. "From a big picture point of view, it is allowing us to spend more time advising and guiding the business in terms of decision making," Knudsen says.
"Whether it's creating transparency on unit costs in manufacturing or resource allocation and investments in R&D, the role of finance is changing because of data. Few functions are as adept in supporting the business; we're able to use our strength in the analytical data dimension, in a versatile way, across the value chain. We're able to connect the dots between, say, the supply chain and R&D." Knudsen adds that this will be the strength of finance and the CFO for many years to come.
Arise King Data
Nor is data flexing its muscles in the finance space alone. On the contrary, it's transforming business more broadly too. From providing insights into consumer behaviours to understanding the areas a company excels in, from helping reduce costs and finding practical efficiencies to predicting the future via the power of AI, data is the vanguard of enterprise today.
And it's easy to see, given the possibilities its use is opening up, why Knudsen and his fellow CFOs are so enthused by its power.
Knudsen, for his part, says using all of that data in a coherent, strategic manner will help businesses drive forward and execute their strategies to the benefit of everyone: them, the patients, shareholders and society as well. In any case, Knudsen adds, the finance professionals of yesteryear are a thing of the past: today they have to embrace a world of capabilities that "finance school" simply doesn't teach.
That's true, explains Knudsen, from robotics to machine learning. "Those capabilities are something you learn elsewhere," he says, "and finance professionals will have to embrace them in a completely different manner in the years to come, compared with those of the past."
It's clear, at any rate, that Knudsen retains the passion he had when he first joined Novo Nordisk all those years ago. And while data back then was a far-off concept, the building block of science fiction, today it's science fact. The journey it's taken him on, he says, has anyway been an "enjoyable" one.
More to the point, Knudsen is keen to reflect on what he's learnt over the decades. He says that if he has anything to share with the CFOs of tomorrow, he would tell them to keep relishing the ride. "The key element is personal growth, getting multiple disparate experiences," he explains, "making sure to enjoy the life journey, not just hunt for the next promotion, but truly enjoy the journey and the career you build along the way."
The role of the today's CFO today would be unrecognisable to their forebears in the 1970s or 1980s – and what CFOs of tomorrow might be doing in another 50 years only time will tell. For now, though, they are increasingly leading from the front, shaping their organisations and roles within them. You can have all the data, the best digitisation strategy and the very latest in technology, but without passion it means nothing, something Novo Nordisk and its CFO clearly possess in abundance.
39%
The percentage of Novo Nordisk's global workforce based in its home country of Denmark.
9
The number of countries with Novo Nordisk production centres: Algeria, Brazil, China, Denmark, France, Japan, Russia, the UK and US.
5
The number of countries hosting Novo Nordisk R&D centres: China, Denmark, India, the UK and US.
Novo Nordisk
31%
The number of CFO responders who say they have oversight of their organisations digital activity in 2021. This was more than three times higher than that of 2016.
McKinsey & Company
27%
The number of more than 1,400 chief information officers who said their business uses a financial model to determine the success of IT investments.
Deloitte